10-year-old, Pádraig O'Callaghan from Limerick has a positive energy like no other, that he is now sharing through his 'Paudcasts.'
The 60 second clips show Pádraig spreading motivation for the week ahead and are posted each Monday on Ecostraws social media platforms – which is owned by Pádraig's father, Brian.
The 'Paudcasts', which started off being viewed by only family and friends have now been seen around the world, with Pádraig being sent messages and thank you cards from as far away as New Zealand, Australia, America and Canada.
Pádraig has Down Syndrome and was born at just 31 weeks old weighing only 2lbs 14ozs.
At only three days old he was rushed to Crumlin Children's hospital for an operation.
Proudly speaking of the adversities his son has overcome, Brian said:
"Because of the Down syndrome diagnosis, he has had to work so much harder than his peers to meet certain milestones, be they in sport, education or other life experiences."
"And I think, as a result of that, coupled with an amazing support network from family, friends and teachers, he has grown into the most positive, determined, motivated, inspirational young man I know."
Talking about the success of his videos, Pádraig said "Way more people saw them than I thought. I like that people enjoy them and that encourages me more."
"I am so happy and excited to know that. It's a good feeling. I also love the Special Olympics and they keep saying to be positive."
Pádraig's father added: "There is nothing more pleasing for me than seeing his eyes light up with delight in reading these messages of support. That's rewarding enough for me."
"He absolutely loves the praise, and I fear we have now created a monster – he has already told me I can be his manager!"
When asked who motivates him Pádraig cited his mam.
"She's very good at doing stuff and does lots for me. And my Dad, we have great fun making the videos, and I love helping him with ideas."
Speaking about his lockdown experience Pádraig said that although he misses his friends and teachers that he is doing some hard work and keeping busy.
After losing his role in aviation due to Covid-19, Brian said the project has 'undoubtedly' helped him aswell:
"Helping Pádraig record these Paudcasts has certainly helped me focus on the important things and not get bogged down with the mundane everyday problems."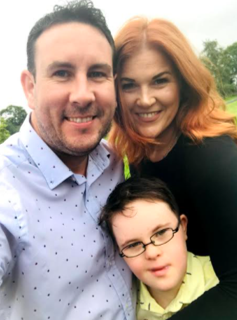 "If people can take some joy, or motivation and determination to give it one last push to overcome this pandemic, then it can only be a good thing, and we are delighted to be able to help."
Pádraig had the following exclusive motivation for Limerick Voice readers:
"I would say just stay at home, and self-isolate. Don't go out, apart from walks, and maybe cut the grass and do odd jobs at home to keep busy. And make sure if you have to go out to keep your distance, because Covid can spread."
Link to all Paudcasts can be seen on https://ecostraws.ie/ and across their social media channels.
http://limerickvoice.com/features/padraigs-paudcasts-the-limerick-boy-shining-a-light-during-lockdown/