An 11-year-old boy who has provided inspirational and motivational videos during lockdown, has been named Limerick Person of the Year.
Padraig O'Callaghan from Knockainey, who has Down syndrome, won widespread popularity for his tips on how to stay positive during the Covid-19 pandemic.
He began working on his videos called "Paudcasts" with his dad Brian, who said it was a way to help him with his communication skills and confidence.
They were published every Monday during the pandemic and gained traction with people all over the world who tuned in for his tips and nuggets of positivity.
He was named Limerick Person of the Month in January 2021, and today was named Limerick Person of the year.
He was delighted to receive his award today.
"It's absolutely sensational. I couldn't believe it at first and I wasn't expecting it," he said.
His father, Brian, said: "I can't actually put into words how proud I am of him and his achievements and for him to share the same stage as others who are held in such high esteem is phenomenal."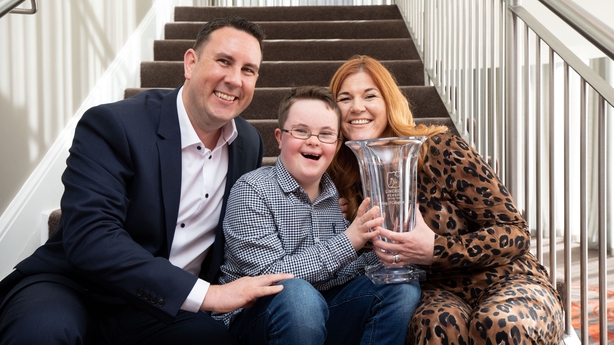 Past winners included Dr Catherine Motherway, who played a leading role in the Covid-19 response, rugby star Paul O'Connell, hockey star Roisin Upton and the Limerick hurling team.
It is the 21st year of the awards scheme, which was set up by the Limerick Leader newspaper, to honour the achievements and success of Limerick people, both at home and abroad.
Today's ceremony was the first time since 2020 that the 12 monthly winners were able to gather for the formal event.
See original post here https://www.rte.ie/news/munster/2022/0407/1291074-limerick-person-of-the-year